Enidine Air Spring
Systems offer a solution for the vibration-oriented mounting of machines. From the technical design right through to the harmonization of individual system components. Air springs enable very low natural frequencies, from 0.5 to 3.5 Hz depending on the type. With load capacities ranging from 0.5 kN to more than 440 kN, air isolators provide effective mounts for sensitive measuring instruments and heavy foundations alike.
As an actuator, Enidine Air Springs provide linear or angular motion. These air springs offer a favorable stroke-to-compressed-height ratio when compared to air cylinders, and can accept a wide variety of actuation media such as air, water, nitrogen or anti-freeze.
As an isolator, Enidine Air Springs are effective in reducing the harmful effects of vibration. They can simultaneously isolate vibration and regular load height, ad well as allow for consistent vibration isolation under varying loads.  Enidine offers a variety of Air Springs types to meet your actuation or isolation needs. The single, double and triple convolute bellows, rolling lobe and sleeve types are available in a wide range of sizes, with the end retainer style required for your installation. If you have a Continental (Contitech), Firestone or Goodyear air bag in your application, Enidine likely has a cross over for it.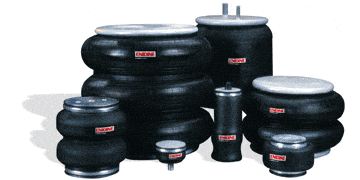 Enidine Air Springs